As I Learned To Play The Counter Strike (humor)
Thursday 28th of April 2011 12:45:48 AM
The other day recommended me a game... the counter strike, and showed me graphics. However, they told me to play with them at ciber, he had to fulfill a main rule:
* Not worth camping
Then, with my privileged mind, it occurred to me that the game was survival, and that it would last much. I figured that the category who they said was to make it shorter, so before playing me memoricé not to do this
Then I found out that the terrorists were killed by the "counter" (what are these?). Of if, it seems to me that they did not deserve the death penalty, however, assumed that the creator of the game would have been based on the forms of punishment of the middle ages, and would not be for anything unusual that used the method of hanging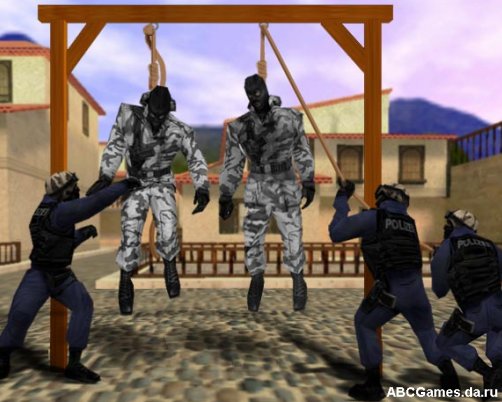 I figured that if a game included long durations, medieval punishment, and that sort of thing, it would have to either find out some tips, or the mixture of these things leave me more than a flashbang flashed (so say my friends), and I guess it should be the method of turning on marijuana outdoorfor flashing that is in that area.
A friend said that having no experience, you should win with intelligence.
Let's see... Let me think
Camps, death penalty, drugs, intelligence, my brain must process all
I have it... or I think
Surely this is about the game, and the arms should be if a discussion is assembled
My friends told me that I was going to play on the side of the counter. Perfect, what I was missing, play without knowing that kind of character I am.
Most obvious could not be a good translator...
I went to the google translator and got counter, and translate from English to Spanish. Jumped me the counter word.
Perfect, the counter was surely the typical office worker.
However... the translator said that strike was a strike (2 separately, together not leaving me no meaning).
Perfect. It now had to be a counter strike that was sent to the gallows to terrorists and is linked with the world of drugs and weapons...
Too complicated for my. But if I thought that this would only be enough, I was wrong.
However, the idea of playing with friends seemed interesting, for more than we were on different sides
I was told that the game gave pleasure... This was too much. Drugs, weapons, sex, etc. That kind of friends had?
An image I created in the mind:
But then I said to myself: "Is not pleased by the fact of rest?" "I don't have to be Malpensa"
I could already imagine to my, lying on the ground, resting in the Sun
But everything was going to get rarer. A friend told me that the flashbang was, for him, the best Grenada... Bone that the drug was already coming in the form of granada?
Now, dear readers, let me say what more I "trauma":
I was told that he could see statistics of headings (figured something more or less like this)
and that could see how many times I killed and how many I killed...
That's creepy. For which did not account (no one sure did expect) "how many I killed"
Bone... After that kill you return as a zombie...
And so dreaded day arrived. At the exit of the school we were all to a cyber.
Ciber was especially trout. The worst machines were these:
There was a small defects of quality:
Others did not have any failure, if we get that they took two hours to load anything, which is reiniciaban every five minutes, and that in the mia someone had written with his swallowing in the Chair.
I sat down, I turned the machine, opened the folder games, I opened the 2006 PES and I put to play against Barcelona.
If you want to know any similar history, seguim
If you are interested in the gta sa, some funny things and other post "interesting", it passes x my other posts