WordPress Exceeds 50 Million Blogs
Wednesday 13th of July 2011 09:54:46 AM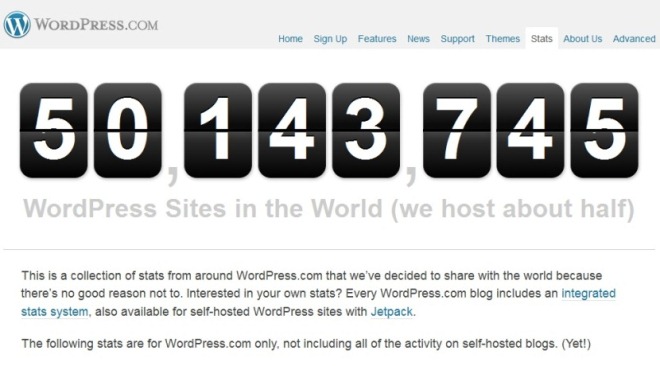 To enter the web site of WordPress.com, the first thing that you can see is a statistic: "the best of 351.517 bloggers, 402.720 publications, 336.270 comments, and 107'108. 193 words published on WordPress.com". We talked about his surprising growth and this fact confirms the expectations. But more impressive still discover that Sunday, July 10 has reached 50 million blogs, figure which has already passed according to the official counter on your website's statistics.
Along with the figure, you can see other data that speak of the success of WordPress: 283 million people see 2.5 million blogs per month, 500 thousand publications and 400 thousand comments a day, blogs in 120 languages of which the first is English, with 66%, and the second the Spanish, with 8.6 per cent, and just as important as TED usersNBC and CNN. The important announcement was Andrew nation, one of the developers of WordPress in your Twitter account.
WordPress was created in 2003 with the desire to combine elegance with ease of use, and emerges as a project free, which makes all progress in the development of the necessary elements for the construction of blogs in community, developers of the company and users. It is open source (open source) is that apart from not having any cost the user have more freedoms, and study the code and behavior of the program.
In November 2005, and in order to broaden the scope of this platform with greater ease of use and built-in hosting company Automattic released WordPress.com, blogs with the same technology storage service. This is the service that has reached the impressive figure of 50 million.
The largest competitor to WordPress is Blogger, Google, has no open statistics, but according to Alexa Internet traffic statistics, that offers in terms of visits it is clear that Blogger is going to head in fifth place, while WordPress is ranked 19 in the overall ranking of most visited sites on the Web.
Source
More news in