Enough Of Discrimination Against The Pinheads
Saturday 20th of August 2011 08:10:45 PM
Welcome to the new post of jackganso
The Gif that can be seen here above the line in which I write is an image that has caused negative reactions in many of the users of Taringa entering my post. Custom is to appear at the beginning of each publication of mine, and with each time that I do, I get an avalanche of Mps of curious who want to know who is the character of the gif with my avatar.

Like curiosity, many also me accused of being me mocking him for being an offensive image or in bad taste. This post is for them. The issue is discrimination and hypocrisy.
Who is he?

Many insurance know. His name was Schlitzie, and rose to fame for his performance in the 1932 film, "Freaks" of director Tod Browning.

The film of Browning, who a year earlier had made Dracula with Bela Lugosi in the lead role, was living in the interior of a circus: relationships, friendships and trapacerías existed between its components. Frida and Hans, two dwarves, are committed, but Hans is secretly in love with the trapeze artist Cleopatra.
Cleopatra, which holds romance with Hercules fortachón circus, receives the good deals from Hans with indulgence mocking, feeling pity for himself both Hans and other phenomena of the circus. But everything changes when she learns that Hans has inherited a large fortune. Then plot a plan with Hercules to mislead Hans. She married him after killing him, staying with the inheritance.
Hans naive falls in the delusions of Cleopatra and they marry. It is the celebration of the wedding happens when the most iconic scene in the film. Cleopatra, sitting at the table along with all the freaks of the circus company, is received with honors as one member of the phenomena of circus community.
link:
The band The Ramones, wrote a song based on this scene. Originally, the song that is sung in the film is "gooble, gabble, one of us, we accept her, we accept her". Dee Dee Ramone changed by choir "Gabba Gabba Hey", iconic phrase for all the fans ramoneros. As well as in the film chant we welcome a new Member to the family of circus freaks, the emblematic song of the Ramones is a welcome for all social freaks, the misfits and outcasts, to the great family of punk rock.
link:
Returning to the film, Cleopatra trap is discovered, and the community of freaks, who are very close and maintain a code of honour very important among them, plan and perpetrate the vendetta against the trapeze artist.

I greatly recommend this film. It is a work of only 64 minutes full of memorable performances, full of drama and humor. A gem of a film that you conmoverá to tears. If you want to download it, I refer to the most recent post for download, which includes a documentary on its realization. All this with subtitles, of course.
What makes a film only in the history of cinematography freaks is cast. Absolutely all the phenomena involved in the film are people with deformities and real anomalies. Since Prince Randian, the man that turns a pure only with his mouth because twins United at the hip, has no arms and legs, Daisy and Violet Hilton Joseph Josephine hermaphrodite, Johnny Eck man without legs walks across fluently using their hands.

Freaks was censured in a thousand ways, trying to one of the most banned films of all time. It was conceived as a horror film, and is that at the time of rubber bats and ridiculous characterizations they scurry to the majority of viewers see a lot of real "monsters" in action was something that went beyond the limits of what the audience could tolerate.

Accusing the director to take advantage of abnormal and sick people to multiply the morbid and therefore the profits from his film. So bad was the renowned Director, who until then enjoyed one of the races more prolific and beneficial of the film, which ended up leaving his Office and retired to an island.

Many will say: what so closed society had in those days!.

The trouble is that the descendants of those viewers shocked at the sight of a "gang of evil nature abortions" inherited escandalizadoras and reactionary traditions of their ancestors. There is still discrimination and contempt for what is different in our times, and in industrial quantities.


Schlitzie worked throughout his life as the Ringling Bros. circus companies, with the subtitle of "The last of the Aztecs", "monkey girl" or simply "what is this?". The exact date of his birth is not known with certainty, it may have been in 1901 and in 1982, neither nor the identity of their biological parents or his place of birth, although it is accepted is a native of New York. He came to say that it is originally from Santa Fe, New Mexico because of its association with the figure of the Aztecs. While the art of the Aztecs included sometimes features of microcephaly, Schlitzie more tallies with the cranial depiction of the Maya.

Schlitzie was suffering from microcephaly, a neurological disorder in which the circumference of the skull is smaller than the common. It is almost always accompanied by mental retardation and dwarfism. At birth, the head of the child is something small, but it is growth that it is evident to the naked eye the anomaly. Side continues its growth but the head, which gives them that aspect of tip-shaped head for which they have been given the name in English of "pinhead", or pinhead.

Schlitzie said he had the intellect of a child of 3 years. Unable to take care of it himself, and with the limitation of only speak in monosyllabic words was able to perform simple tasks and understand most of what said you. Who well knew Schlitzie described as an affectionate, cheerful, sociable I loved dancing, singing and being the center of attention.

His attire was a muumuu (it was a long loose dress and floreado of Hawaiian origin as that use Homer in the episode King-size Homer); those who knew referred alternately as "the" or "she". Some sources said that the choice of clothing was more convenient because I had problems of incontinence, should use diapers and so it was easier to take care of him. However, this is not 100% confirmed that most of the images show that Schlitzie used pants under her dress, and some who knew him said he did not develop their incontinence but until old age. The truth is that to Schlitzie you they loved the dresses and hats.

Buried in a tomb without a name in the cemetery of the Queen of Heaven in Rowland Heights his grave remained unnamed until August 2008, reason by which the members of the Web site findadeath.com raised almost $400 to purchase a proper headstone, which shows his name as "schlitze surtees" and his date of birth as September 10, 1901.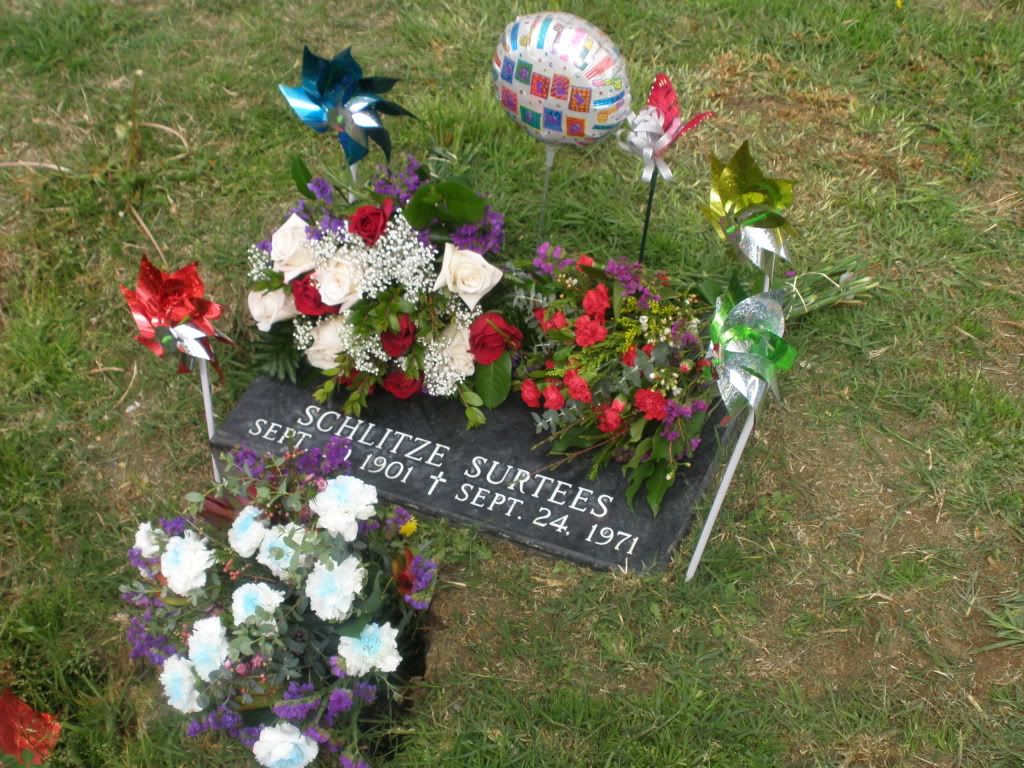 Here are a couple of videos of her performance in the film Freaks. Impossible to contain the tenderness and charismatic personality of Schlitzie.
link:
link:
The reason that I always put the gif of Schlitzie is because I love it. I am glad to see him so happy; It is a moment unique and rare audiovisual documents that exist of him. A clip where he is enjoying the fun that surrounds it. It is a piece of video that spread happiness.
You consider offensive to include this gif? So must have seemed them to many because the original gif I used for many of my post now no longer visible. Censorship and the injustice loom here in Taringa grounds as innocent as that. Here's the gif which used.
Don't you see? Mmmm, what rare.

Ridiculous horror that causes an image as safe as that in the minds of today's generation.

I have been told that it is a lack of respect and an offensive Act use the gif, on the grounds that I encourage discrimination. The differentiation is not being exercised by me, but by the same me pointing as discriminator and inducidor hatred against underdogs. Believing that a human being with a body different from the rest of us should be hidden from the general view is an argument in itself discriminatory.

It is like telling a deformed child: "you accept you, but please do not come out to the street, could offend the passers-by."

Arturo Vega, the designer of the famous logo of the Ramones, who performed much of the merchandise of the band using swastikas, said that the swastikas are a closet Nazi detector; generally, those that react escandalizando to a design that included swastikas is because they keep Nazi trends in most fund them
That is why I am showing them some of the most famous microcéfalos, whom I lovingly call pinheads who acted for the entertainment of thousands and thousands of people in circuses around the world. I hope not to offend your delicate vision accustomed only to "beauty".
Zip the Pinhead, born William Henry Johnson in 1842 was an American circus actor. Born into a poor African-American family, called the attention of circus Emburgh by his head, looked much less small than usual. Debate over whether it was or not a pinhead; the truth is that he did not suffer any mental retardation.

His parents agreed to use it on the show in order to get some income. He told the audience that was found a tribe in Africa of missing links and Zippy was one of them. Later, they explained, it was discovered that it ate raw meat, nuts and fruit but what they were trained to eat food more civilised bread and pastries. It then dropped the curtain which covered an enormous cage where Zippy abalanzaba on bars and bramaba as wild.

For 67 years was making his performances with events less animals than the aforementioned, until his death in 1926.
PIP and Flip, twins who shared credits with Schlitzie in Freaks. Also said they came from Yucatán, Mexico by its similarities to Mayan art. Their real names were Elvira and Jenny Lee Snow.



Maximo and Bartola, other brothers promoted as Aztecs
Moko, the missing link

Kiko and Sulu of Zanzibar.

Gondio

Athelia. It was Schlitzie's sister said. They shared the stage many times.

Several dubious identity pinheads

Posters and announcements
Do you think? Unfortunately, these times xenophobic and curiosity to the slightest difference have not disappeared. There is no need to do many of the comments that abound in Taringa to realise infested we are racist and discriminatory thoughts.





I hope that the post has found them interesting. I will not close comments because I believe that they are able to express themselves in a rational way.








link: