Industry Military Made In Argentina.
Thursday 12th of January 2012 01:48:06 PM
IA-63 Pampa


The IA 63 (Instituto Aerotécnico model 63) is a jet trainer with capacities of combat, originally produced in the Republic factory planes () in the province of Córdoba, with the assistance of the Dornier Flugzeugwerke of Germany company.


FMA IA 58 PUCARÁ


The IA 58 is a twin-engine turboprop design and construction (designation aircraft factory), which flew for the first time on August 20, 1969. It is designed to operate in small, and not necessarily prepared, dirt tracks. Its primary mission is; in support of Earth, anti-helicópteros and especially COIN (pucará) missions. This aircraft is unusual due to its cockpit in tandem in a twin-engine propeller, however, shares similarities with
the American OV-10 Bronco.
Lipan Apache M3
Lipan M3 is an unmanned aircraft (UAV) for surveillance, reconnaissance and intelligence developed in its entirety by members of the Argentine army who has been researching and developing this type of aircraft since 1996 and is the first development in all Latin America.
It is part of the first "system air tactical unmanned" and the first units have been designed during the month of December 2007 to the detachment of intelligence of combat 601 of the Argentine army.
CITEFA AS - 25 K
This missile is developed by the (Instituto de Investigaciones Científicas and techniques of the armed forces), has 2 versions, liaison and air-to-surface. It is encouraged by means of a rocket booster's acceleration and a rocket Cruiser of solid propellant that give a range of 25 km reaching speed of Mach 0.82.
Their weight does not exceed 240 kg, with a warhead composed by approximately 60 kg of Hexolite 50.50.
AS - 25 k with head go(Passive) is already fully developed and ready to put to the test. Laser works on a locator of objectives and which could give the missile a version laser.
PCX-900 GRADICOM I

PCX-900 is an Argentine rocket launched on 17 December 2009 from Serrezuela, province of Córdoba, in order to standardize in-flight engine GRADICOM
Developed by the Center for scientific research and technology for the CITEDEF defence, under the direction of the vicecomodoro Carlos Vásquez, for various uses: sounding rockets, and artillery of long-range and civilian applications and militares1.
Is solid fuel: HTPB, perchlorate, ammonium, aluminium and other compounds
GRADICOM II

GRADICOM II (PCX2) is an Argentine rocket launched on July 11, 2011 from Chamical, province of La Rioja
/>
TRONADOR II
Tronador II is the name given to an Argentine rocket in two stages which is being developed by official institution.
The Tronador II rocket is based on the Tronador I rocket, a small rocket monoetapa of 4 meters in length, released in July 2007. It served as a technological test, in order to allow progress towards another type of rocket: Tronador II, far superior technique and prestacionalmente to its predecessor (Tronador I only reaches 20 km altitude, and can be a simple payload).
The power of the hydrazine allows to place in orbit a payload of up to 200 kg, that is, can put in orbit (ca. 400 km) a satellite.
It will be a revival of the technology aerospace in , and can launch small satellites of reliable, safe, cheap and independently.
TAM: Medium Argentine tank
The Argentine medium tank () is a medium tank, designed in 1973 by the company Germany Thyssen-Henschel for the Argentine army. Uses the same chassis as the Marder, and it was manufactured bythe tank Argentine medium society of the State (TAMSE) company disbanded during the Presidency of Carlos Menem. From the main model have emerged at least one dozen variants.
TAM VCLC
Combat vehicle launches rocket ( VCLC) is a developed, multiple rocket launcher based on the used in the Argentine medium tank chassis, and saw in stops military until a few years ago. Part of the family of vehicles (medium Argentine tank) and is one of the variants more recientes.1
TAM VCTP
Combate-Transporte vehicle, personnel ( VCTP) is a vehicle for infantry combat in (medium Argentine tank) family, 1 manufactured by the sociedad estatal TAMSE (medium Argentine tank, society of the State), during the era of military dictatorships, as a sign of local technology, and to give the Argentine army in effective troop transport and which could manufacture locally.
/>
TAM VCA
The artillery combat vehicle ( VCA) was manufactured by TAMSE (tank Argentine medium society of the State), during the dictatorship in ; and it was a locally to provide the army with a self-propelled howitzer, before the international embargo that swept the nation in that period
FARA 83
Originally named FAA 81 (1981 Argentine assault rifle), FARA 83 was created by a request from the army Argentino to the Directorate General of Fabricaciones Militares to replace the now almost obsolete FAL caliber 7.62x51mm NATO by a rifle of national design that firing the cartridge 5.56 x 45 NATO, the softer recoil and increased magazine capacity.
For the year 1986 occurred around 1000 rifles, but the project was finally cancelled due to economic constraints.
FMK-3
The FMK-3 is an Argentine weapon's selective-fire, powered by mass retreat designed by Fabricaciones Militares in 1974. Is a 9x19mm parabellum caliber, with a rate of fire of 650 roundsper minute. There are available 25, 32 and 40-round magazines for the FMK-3. Until 1991, were produced 30,000 for Army Argentino.2 rare times, they are some variants with fixed cylinder. The FMK-3 is also produced for the civilian market, just as a semi-automatic version called the FMK-5.
CITEFA MARA
The Mara is a portable weapon system designed by the Argentine to equip small infantry units with an anti-tank grenade launcher.
It's a lightweight and compact, tube of simple operation. During its design they prioritised to the training for their jobs outside simple, which was a high capacity of penetration of armour and a precision.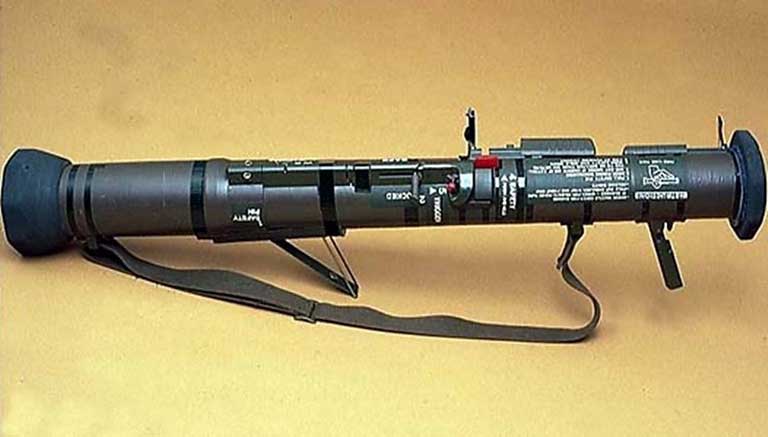 Mathogo
Mathogo is an anti-tank guided missile developed by the Institute of scientific research and techniques of the armed forces () of .
It is strongly influenced by the Franco-German origin SS.11 missile.
The missile was designed to serve its transport box launcher, including the missile and electronic components as well as the cableIt unrolls through flight for his guidance, several launchers can be operated by a single command post with a joystick and the pointer uses a flare that is in the tail of the missile for his guidance and follow-up until the impact (source: NCO journal - Argentine )
155 Mm L 33 Argentine model gun
The 155 mm gun L 33 Argentine model is a field artillery gun developed in and in service with the Argentine army and the Croatian.