I Was Born In 1925 And Tell It You
Thursday 2nd of February 2012 11:33:09 PM
---
He said:
This is me!
[/quote]

Hello as few people know my name is Chester j. Lampwick I was born 1925, Springfield, massachusetts, am 89 years


I was born a difficult time! near the time of economic depression


Good here I come asking for alms, because well they were difficult times

Center ">"
After a while I had the brilliant idea of making the first drawing of daly

This was the first chapter, I was the pioneer of violence cartoons


But well, the damn of roger Meyers I steal them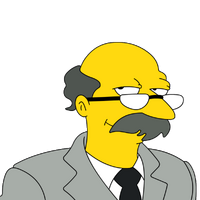 Good finish without drawings poor.

network ">"

Until that a festival of Tom daly a boy named bart helped me to recover all the drawings that the cursed son of... Meyers me stolen had


Nose because hell but there's always a cameraman...


Here the home of the simpsons


After many comings turns, research the video library, we can discover how beat Meyers Junior

/>

And if someday I get the day of the trial time to recover the fortune that I belonged!


This was the drawing to me safe so the trial could win over that damn bastard of Meyers.


Here giving some money to the simpsons for the help that I received!


Here with my house of gold solid my super race car

network ">"

So end the moments most exciting in my life! Greetings taringa I leave the episode of the Simpsons where parody what happened to my life!

Post created with PosT!NGA