C5N Me Mintio Live And Show You
Wednesday 14th of November 2012 01:57:44 PM
link:
Attention from the 0.20 seconds.


-El flaco this discussing with another with the mobile c5n.

-The trifulca almost above the mobile weapon.

-Comes running a skinny dark grey t-shirt (C5N valet) and you paste from back to this turnip that was escrachado. (to 0.55 seconds of video)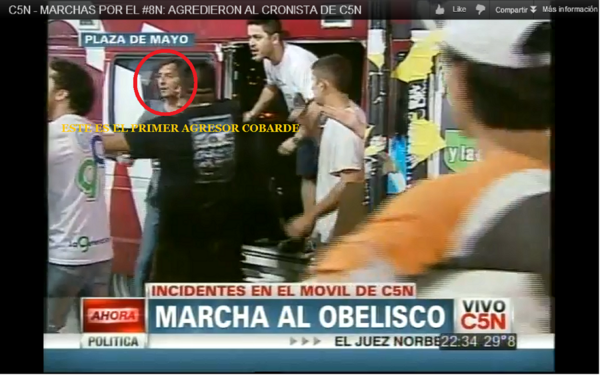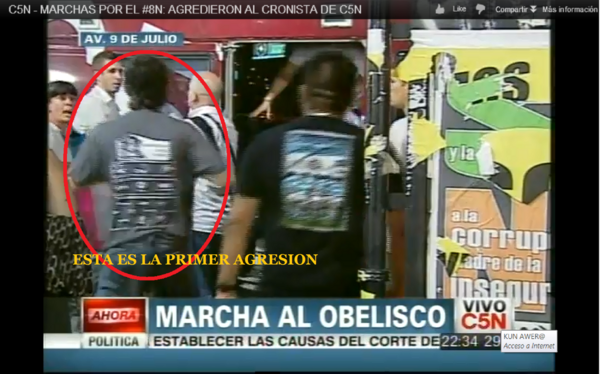 -Follow the trifulca until they are separated

-Celestial Ayuso's shirt to your right partner reacts

-Then, the bare faces for the camera to make mobile live

-Ayuso said "do Ahh if?" "You like give me back?... to my also, tomaaaaaaaaaaaaa" (bue...This story is mine)


Obviously, TOTAL REPUDIATION of this such "Ayuso" aggression, but it is good to know the whole truth.


I CLARIFY THAT DO NOT DEFEND ANY OF THE AGGRESSORS; ONLY say that C5N me MINTIÓ in the face because LO was watching in live and not said nothing of the Prime AGGRESSOR
Top commentators LAGE says that they assault among them
When they know that you agredio C5N CAMERAMAN

HERE IS THE TEST OF THE AGGRESSOR TO NICOLAS AYUSO IS C5N CAMERAMAN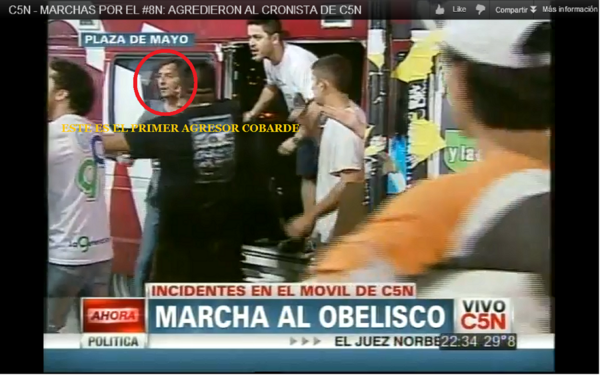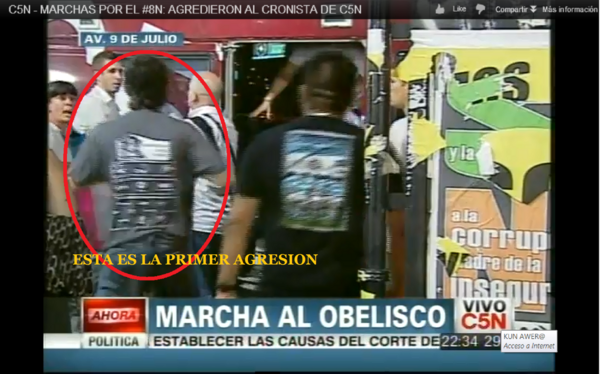 With respect to one of the few isolated, but no less curious about the aggression suffered by the journalist with C5N, channel recently responds to the ruling party. And that has had such an impact, I feel obliged to tell and share with you guys, what is editing and maliciously hiding from what happened. I was casually minutes before in the same place, ofcourse taking photos like millions of compatriots in an unforgettable night. And guess who leaves sake clarito on one of her? Cameraman C5N who drove the tripod with panning, I remember in fact perfect on him, but without a photo that endorse it could do nothing. This same subject is dedicated to beating protesters in their work schedule, as demonstrated well in the photo attached and youtube videos before being edited. In the photo looks perfectly both his face and t-shirt of the Dakar rally that is seen in the video also, the good thing that face, thing that in the video no, less once they realized from the channel and began to pass the edited video, discarding the initial problem can be seen in the photo. It can also be seen
in the video, that the aggression starts cowardly by cameraman the boy hitting of garron from behind a punch, and then someone adds more to beat him also, and all of this is not known because of what you were to paste. In the same video, is justly noted that the cameraman started and leave camera planted in the tripod and abandoned, and from that moment the camera did not move more. Precisely why when from the study communicate with journalist (Nestor Dib), this same reaches them to say that they were without cameraman, of course, because precisely that was to hit the boy (Nicholas Ayuso). For that reason I sense clearly the reason by which you downloaded then tapping of equal shape to treason journalist. Please, disseminate and share this. Does not justify any kind of violence, but things clear and without lies please. Hopefully comes out on tv this clarification and escrache similarly to the cameraman that triggered the reaction of this boy

Lage clarified that patovicas, or at any moment take charge of which they also ASSAULTED, no in C5N "if we were patovicas not happen this", says another on the floor
SHAME, CN5 LIES

This photo of ADRIAN NORIEGA, (journalist C5N) is not one minor detail and (rrrpp Manager and investor relations secure Sancor and NICOLAS AYUSO juuuuustamente worked there have attacked NESTOR DIB the 8N
Here we see to ADRIAN NORIEGA in a photo with NICOLAS AYUSO and his girlfriend, in
a feast of Sancor
Incidentally is too much coincidence that a manager of the company, Sancor has 2000 employees, and C5N journalist take a picture with the aggressor. It is clear the manoeuvre to dismiss the Cacerolazo
"to my ME beat those of C5N", said Ayuso
link:
35 C5N worker returns him to attack, it is the same of the previous video with the same t-shirt
1:04 "To my ME stuck LOS of C5N", said Ayuso
1: 18 says the same thing you hit LOS of C5N from back


1: 54 Lage clarified that no patovicas in C5N and are working journalists, technical, where there is no one going to hit someone, or at any moment take charge of which they also ASSAULTED, "if we were patovicas not happen this", says another on the floor
SHAME, C5N is lying, to Ayuso two ASSAULTS it times the C5N CAMERAMAN

THE NEXT DAY NOR SAY ANYTHING FROM THE AGGRESSION OF HIS CAMERAMAN
height ="390" frameborder = "0" src="http://www.youtube.com/embed/K4_nvTkcIyo?wmode=transparent" allowfullscreen >
link:
AFTER THIS AND ANTONIO'S THE MINER MUST QUESTION IF WHAT WE SEE IN THE MEDIA IS TRUTH OR LIE